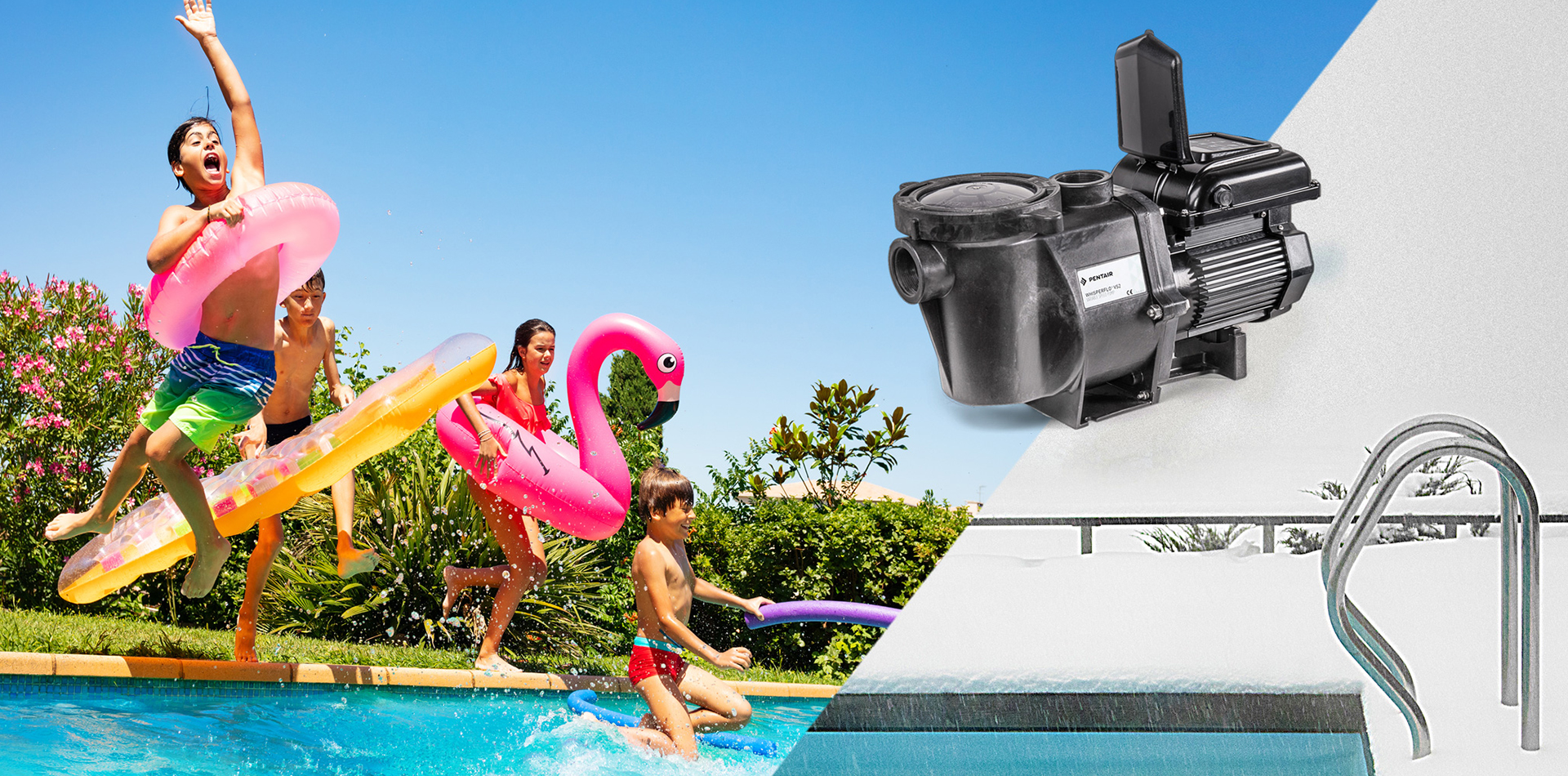 The variable-speed pump, a pump with numerous virtues for swimming pools
The variable-speed pump, or VS pump, first appeared on the market some fifteen years ago and its use has become progressively widespread amongst swimming pool owners. In the United States, they have been widely adopted and may well become mandatory for all pumps over 1 HP, to limit the power consumption of swimming pools. The American Department of Energy (DOE) is currently working on new Federal Regulations scheduled to come into effect by 2021 and similar State Regulations are already in force in California and Florida. What is the main reason for the popularity of the VS pump? It lies in the energy efficiency of variable-speed pumps i.e. efficiency to power consumption ratio.
Energy efficiency is comparable to the notion of 'yield' or 'performance'. By way of comparison, a single-speed pump with a traditional electric engine is only 40% efficient, whereas a variable-speed pump, fitted with a permanent magnet motor, can achieve performance levels in excess of 90%. Therefore, the electrical losses are reduced, a lot less heat is generated and ultimately the pump's engine has a longer lifespan.
However, energy efficiency is only one of many advantages of variable-speed pumps. Operating at low speeds, they are also a lot less noisy than single-speed pumps. In addition, it is much easier to select a model that is 'right-sized' for the swimming pool as every pump is adaptable to the specific needs of each pool, within the limits of the pump's power of course.
From a single-speed pump to a variable-speed pump
The law requires a full filtration of a swimming pool water in eight hours, which represents at least three daily cycles through the filter.
The choice of single-speed pump is based on multiplying 5.2 (average number cycles) by the volume of the pool, and dividing the result by 24 hours and rounding it up, without taking into account pressure drops e.g. length of piping, elbows, height of water etc. In terms of the daily filtration time, a reliable rule of thumb is to adapt the filtration time to the water temperature (≈ divide the water temperature by two, i.e. 14 hours for water at 28°C).
With a variable-speed pump, life is much simpler. The pump self-adapts and regulates its speed as required. It should be noted that when the revolution speed of the motor is halved, the flow rate is divided by two, the pressure drops are divided by four, and the consumption is divided by eight (exponential value). Lower speeds mean reduced electrical consumption, improved filtration efficiency (the cycle duration inside the filter is longer leading to improved capture of impurities) and less noise.
And since it is a variable-speed pump, it also retains power reserves for backwashing, for the quick removal of green water, for boosting the system when all your children and their mates are playing in the pool or for having several devices operating simultaneously. These benefits are simply not possible with traditional single-speed pumps, as they are consistently being either under- or over-used.
While variable-speed pumps are a more expensive outlay, they offer a speedy return on investment through savings achieved chiefly on power consumption but also on running expenses relating to water consumption, disinfection and regulatory products. They also operate silently... which is priceless.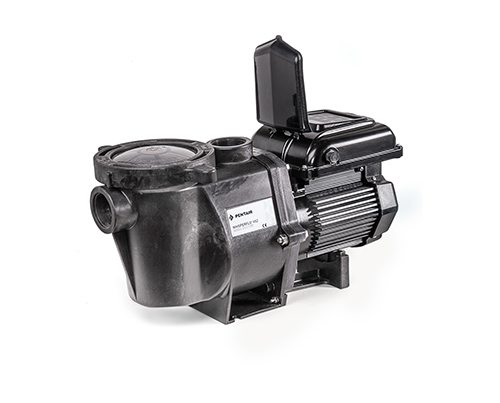 All VS pumps are not equal
There are currently three technologies on the market:
VS pumps with a permanent magnet motor: the original VS pump technology that enables fine adjustments to the power of the pump.
Two other so-called 'variable-speed' pump technologies have since been introduced on the market:
Multiple-speed pumps that feature two to three fixed speeds and rely on a double or triple winding (two or three motors in one).
Standard pumps fitted with a frequency converter that artificially modulates their speed. However, the downside is that they tend to heat up at reduced speeds and so face the risk of premature ageing.
The VS pump, smart and sustainable pool equipment
In short, variable-speed pumps make swimming pools more smart and sustainable, in terms of how they operate and their ease of use:
Continuous water filtration: variable-speed pumps run continuously which reduces the risk of pool water deteriorating in quality. It also improves the diffusion of treatment products as they are released 24 hours a day, whereas a standard pump will only release products for 14 hours a day. Operating at a lower speed the VS pump also improves the filtration performance of the sand filter and reduces the pressure in the system which in turn reduces leakage hazards.
A sounder treatment: do not forget that the filtration system (i.e. pump and filter) is responsible for 80% of the treatment work. Properly filtered water requires fewer products e.g. pH, chlorine. Coupled with an associated automatic or semi-automatic regulation system, it is possible to inject the right chemical dosage at the right moment. By using an automation system for constant monitoring, it is now even easier for an owner or maintenance professional to intervene at the critical time with the right action, without even having to open the technical room.
Associated with a reversible heat pump, the variable-speed pump will help thermoregulate the swimming pool water so it remains at the right bathing temperature, without being too hot to deform the liner or encourage algae growth.
Ultimately a VS pump will generate less noise disturbance while generating significant power savings!
Pentair, inventor of the variable-speed pump
With its IntelliFlo pump launched in 2004, Pentair created the market for variable-speed pumps. Some fifteen years later, with more than 1.5 million variable-speed pumps sold throughout the world, 12.7 billion kilowatt-hours have been saved, equivalent to the yearly power consumption of 1.3 million homes.
The IntelliFlo has since been replaced by IntelliFlo VSF, a variable speed pump that features improved performance (energy efficiency) and the possibility of maintaining a constant flow rate, making VSF Pentair Pumps the most advanced in the market.