Piscine Global is the most important swimming pool trade fair in Europe. With over 1100 exhibitors and brands, it's an unmissable reference event for professionals in the industry, and it's finally back in the flesh after 4 years off, from 15–18 November 2022 in Lyon.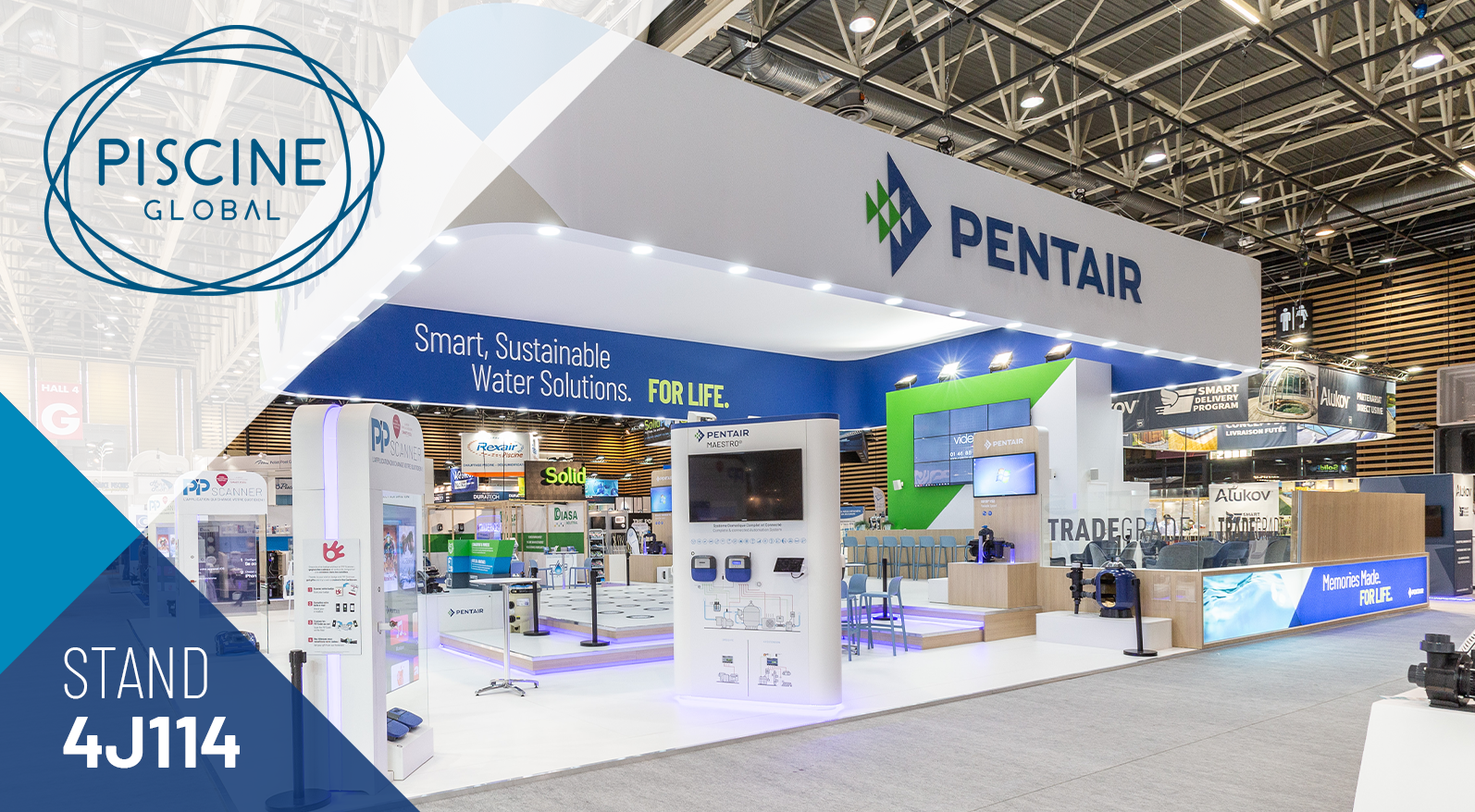 To make the most of this occasion and get back in touch with visitors who are so important to Pentair, we've decided to make our mark at Piscine Global with a stand of over 280 m2, where we'll be exclusively revealing the many products and innovations that will equip the swimming pools of tomorrow.
This is because after two years of pandemic, the global economic background has changed a lot: manufacturers and all professionals in the swimming pool sector must adapt without delay to a market that requires more eco-friendly, durable and economical products, in line with the requirements of our era.
With its concept of a virtuous swimming pool that has existed for several years, Pentair is a trailblazer when it comes to economical and durable swimming pools: our latest variable speed pumps, cartridge filters or heat pumps, for example, were designed using this strict framework, to support swimming pool owners in their daily efforts.
The Pentair products that will be appearing at the trade fair
At our stand at Piscine Global Europe 2022, we'll present around thirty products, including a selection of variable speed and flow pumps, filters, home-automated solutions, heat pumps and many more. A perfect opportunity to demonstrate how these products have developed, and become even more virtuous and efficient. Especially thanks to:
- more independent and intelligent solutions that systematically use the right quantity of energy and products;
- better-connected solutions to make life easier for professionals and their customers, such as the new IntelliFlo3 VSF, the world's first connected variable speed pump;
At Pentair, we always strive to support professionals in the swimming pool sector as best we can. Our mission is to help them renovate or create swimming pools with more added value, equipped with durable, innovative and intelligent products, which make life easier for their customers, win their loyalty and keep them happy in the long run. 
You're going to be busy. Make the most of your time.
Our experts will be available to guide you towards our range of solutions at any time during the trade fair. Come and see them at Stand 4J114. 

Or why not skip the queues and book a slot?