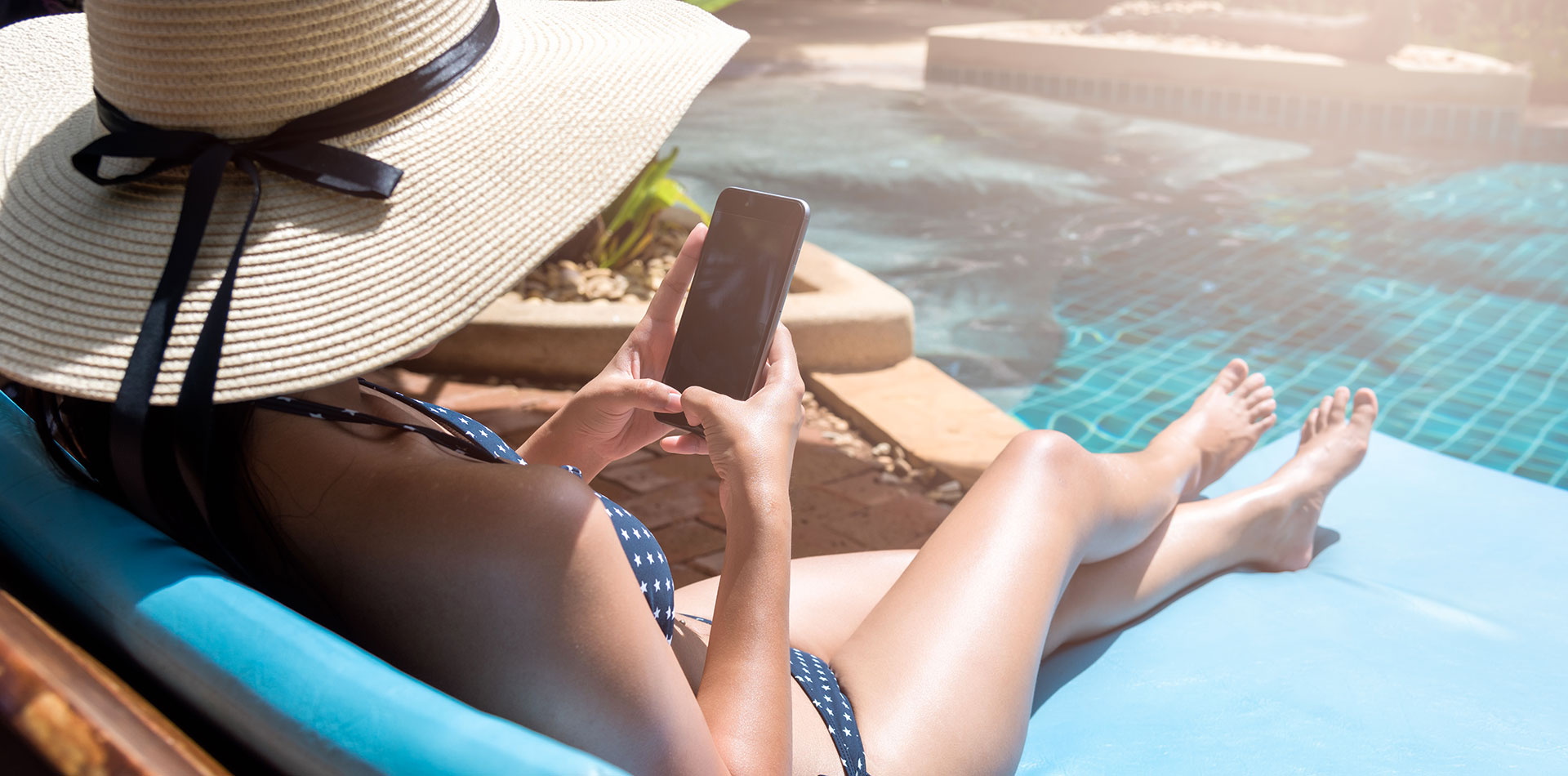 Checking the pH and the amount of chlorine in the pool water every day... Making sure that the water does not turn green... Monitoring the temperature so that swimming is always pleasant and that algae does not build up...
You already know what to do. We don't need to tell you that this is just the tip of the iceberg.
Maintaining your swimming pool is an easy task (with the help of a guide to water treatment, for example), but a burdensome one all the same.
A pool needs to be checked constantly. The water in particular requires frequent monitoring in order to maintain its balance AND its disinfecting power – two essential characteristics of swimming pool water.
But did you know that there is a great solution which can relieve you of this duty? Swimming pool automation and connection are two systems which could not be easier to install and use. See for yourself - reading the next few lines will make you an expert on the subject!
What is swimming pool automation?
When we talk about pool automation or smart pools, we normally refer to the automation of water treatment (pH and disinfectant). But that's not always the case. Many installed devices can be controlled automatically for our convenience.
It is important to know that several levels of control are possible.
Let's start with "Level 0", meaning that your pool only gives you indications, by means of a thermometer or a floating device, for example. It's then up to you to do all the work manually – starting up the filtration pump, replacing the chlorine tablets, turning on the lighting, etc. Things get more interesting on Level 1...
Level 1: Simple automation using a timer
At this level, which is applicable to the vast majority of swimming pools, a timer simply turns devices (such as the filtration pump) on and off, depending on timing settings that you have configured. This can also be the case for water treatment, by means of an installed device that injects or produces a certain volume of chlorine every hour.
This is an automatic system, but not a smart one. You are responsible for configuring the values, such as "how much" and "when". The system then runs without checking the adequacy of the water treatment.
Level 2: Water treatment regulation for the swimming pool
This level of automation is widely used in water treatment. The system uses the information that it receives to regulate the treatment and to adjust it where necessary.
For example, the device measures the pH before injecting a pH-/pH+ corrector. Automation is therefore able to vary when necessary, and does not just "act at such and such a time", as in Level 1.
Another example with the filtration pump: it has to work for longer when the water temperature is higher. (Tip: half the maximum temperature of the day = the pump's operating time in hours.) A regulation system can automatically set the pump's operating time according to the measured water temperature!
This enables us to use intelligent automation which corresponds much more to the principle of a virtuous swimming pool: "the right dosage at the right moment".
Such a system makes it possible to save both energy, especially with the pump, and money on treatment products. The correct dosage is also much better for your health, and protects the installed devices by typically avoiding overdosage (chlorine or acid).
In other words, it would be wrong to deprive yourself of so many advantages!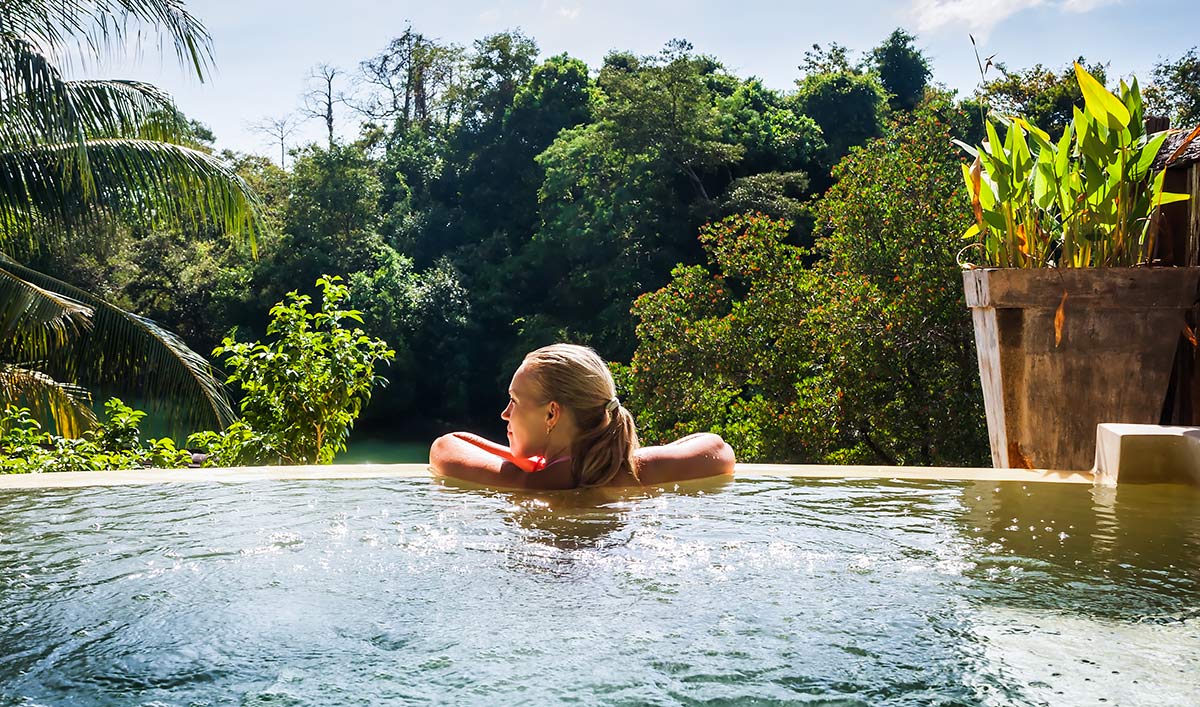 Level 3: The automation of multiple installed devices at the same time thanks to the centralisation of information
While Level 2 is very practical, a higher level of "intelligence" can be reached when several regulated systems work together.
In this case, for example, the system switches on the heat pump when it detects that the water is cooling down. But the rise in temperature will encourage the generation of bacteria. The system can therefore also automatically inject chlorine and increase the filtration time.
Another example is that of a device connected to a weather application, which will fill the swimming pool if evaporation is expected due to the forecast high heat, or on the contrary, will avoid filling the pool if rain is forecast.
This automatic interoperability of installed devices is truly ideal for any owner who wants their pool to be as economical, eco-responsible and practical as possible. While the technology itself is still in its infancy, some systems are already very efficient, such as the Maestro or the IntelliPool by Pentair.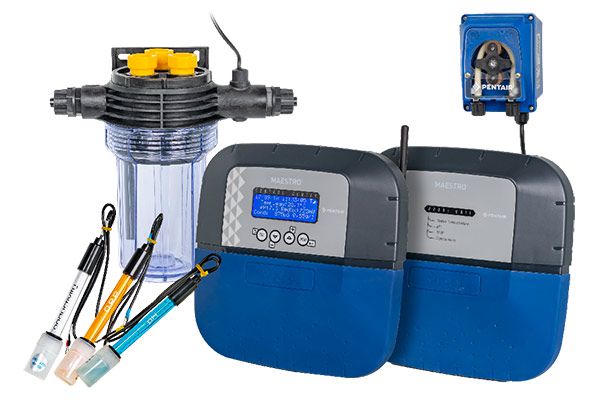 What is a "connected swimming pool"?
"Connected swimming pool" can mean a thousand and one things. Many manufacturers are not very clear on this term, because there are many different connection types.
In some cases, a "connected" device actually only offers you a Bluetooth connection to your phone (so you can only be a few metres away at most), using a dedicated control application. Although this is practical, it doesn't really count as remote monitoring.
To put it simply, the connection to your pool can be either local (as in our Bluetooth example), extended within a domestic network (LAN, Wi-Fi, LoRa), or online, to ensure that remote monitoring is as practical as possible.
A second useful point is that the connection can be unidirectional or bidirectional. A unidirectional connection is used, for example, by floating devices which only give information: temperature, pH level, chlorine, etc.
A bidirectional connection, on the other hand, also allows information to be sent to the device and therefore its parameters to be modified – filtration time, water heating, etc. This is the case with Maestro or IntelliPool systems in particular, as they operate through a wide-reaching, bidirectional network. In other words, they really give you the freedom to control your pool from a distance.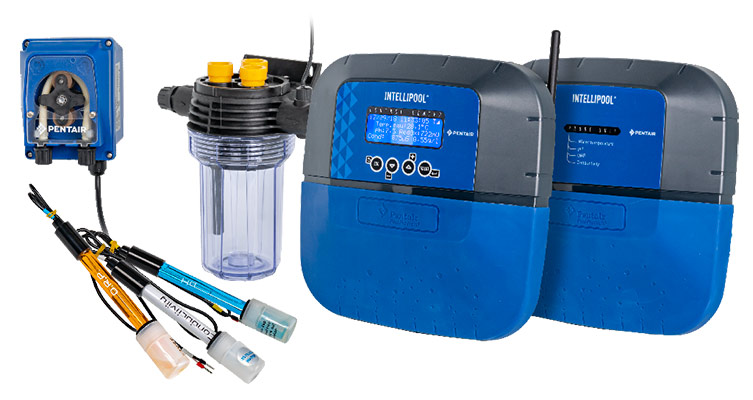 Automate and connect your pool, to make your it more eco-responsible and easier to maintain!
Now that we better understand what an automated and connected swimming pool (or swimming pool automation) is, we also understand that it can be, above all, very useful for the treatment of water.
Using an automatic system that constantly regulates the quality of the water is always more efficient than taking measurements manually, and guarantees you the right dose of treatment product at the right time. The right dosage is very important for swimmers' health, the lifespan of your equipment, and the ecological impact of your swimming pool.
Automating water filtration is another way of making real energy savings, especially when combined with a variable speed pump (VS pump). Imagine, for example, a device that adapts the speed of the pump according to the use of the swimming pool, the opening or closing of the shutter, or the temperature of the water. If that's not practical, what is?
In addition to energy savings, which means less use of the pump, the role of the filter is reduced, resulting in a longer lifespan for your installed devices!
The automation of LED lights is another useful application for summer evenings. The same can be said about the heat pump, which means that you don't need to heat the water as much during the week if you only swim at the weekend.
These are just a few examples. There are still many other instances in which one or several devices can be automated.

Finally, imagine all these possibilities within a connected swimming pool – control, monitoring, alerts, anticipation of requirements – and all from a distance...
Connected automation is undoubtedly the future of swimming pools, for more practical, economical and virtuous swimming!
An automated and connected swimming pool: so easy, so practical
Are you worried about the installation, programming or maintenance of these devices? Don't be! Every effort has been made over the past few years to make the devices as intuitive as possible, to the point that even a non-technical specialist will be able to use them easily and correctly.
At Pentair we promote the advantages of a virtuous swimming pool, not only to meet the ecological imperatives of our time, but also to make the upkeep of your swimming pool as easy as possible for you.
Imagine not having to ask yourself all of these questions, and being able to just jump in the water whenever you want to...
Imagine having a swimming pool that consumes as little energy as possible, but best meets your requirements and wishes...
Just imagine having a swimming pool that is eco-responsible, and always ready for you to swim in.
Automation makes all of this possible. What are you waiting for?